WEIGH-IN RESULTS FROM THE MGM GRAND GARDEN ARENA
Las Vegas, NV:- Top Rank held the weigh in for the gladiators fighting tomorrow at the MGM Grand Garden Arena moments ago.
Miguel Cotto, the Boricua from Puerto Rico came in right on the nose:- 145lbs. Pacquiao, the challenger was a pound less at 144 lbs.

The rest of the weigh results are as follows:

Troy Rowland -- 159lbs vs Julio Cesar Chavez Jr. -- 160lbs

Yuri Foreman -- 154 lbs vs Daniel Santos -- 154 lbs

Jesus Soto-Karass -- 147.5lbs vs Alfonso Gomez -- 146.5lbs

Martin Vierra -- 152lbs vs Rodrigo Garcia -- 150lbs

Eilon Kedem -- 119.5lbs vs Eden Sonsona -- 121lbs

Mustafah Johnson -- 158lbs vs Matt Korobov -- 160.5

Ernie Marquez -- 112lbs vs Richi Mepranum -- 112lbs

Lupe Guzman -- 134.5lbs vs Abner Cotto -- 133lbs

The event could have been "uneventful' if not for the sharp verbal exchanges between Freddie Roach and Joe Santiago, Santiago said something that did not sink in too well with Roach and the Wildcard Gym master charged towards Santiago. But, as they go in these events, cooler heads prevailed and the two trainers were separated.

At this writing, we are still looking for people who heard what was said and as soon as we get to the meat of that exchange, we will post it in this site.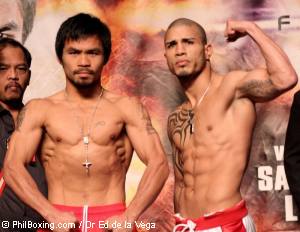 Pacquiao (L)and Cotto.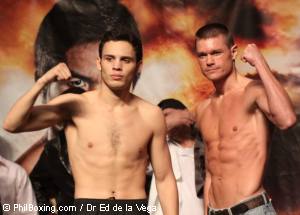 Chavez (L) and Rowland.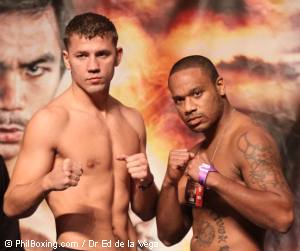 Foreman (L) and Santos.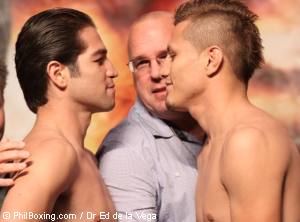 Gomez (L) and Soto-Karass.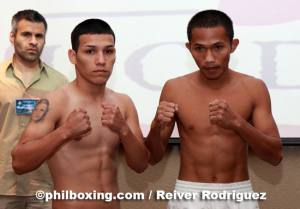 Marquez (L) and Mepranum.