REQUIRE MUCH HEAVIER PENALTY FOR COMING IN OVERWEIGHT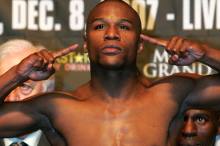 What are three million dollars to give away if the purse is 30 million and the projected total earnings much more than that?

Peanuts, if I may say. Particularly if the benefit is a possible advantage in weight at fight night!

There has been many speculations regarding weight on the yet unsigned, but agreed upon fight between Manny Pacquiao and Floyd Mayweather Jr. on March 13, 2010.

In so far as Pacquiao is concerned, making the 147 weight limit is a no brainer. In fact, Pacquiao may well come in at 145 or even less. But, that makes no difference. He will still be as fast as a bullet and strong as a bull.

The main concern of many is at what weight will that Little Floyd be? Will he pull "another Marquez" in this fight?

That is a distinct possibility!

Little Floyd may utterly disrespect the fight contract, Pacquiao and the host of people putting the fight together by coming in overweight much like he did with the Marquez fight.

Little Floyd has done that once and he may well do it again. As he has shown with the Marquez fight, he respects no contracts. He is that arrogant!

It was said that if and when the contracts are signed, part of the specs will include a million dollar penalty for every pound over 147 lbs.

A mere million dollars for every pound?

That is totally absurd!

That is nothing, particularly when the final purse for each fighter will be well over 30 million!

If both boxers will indeed make the more than the 3o million bucks being tossed around by the promoters, Little Floyd will have no qualms coming in at 150 lbs., and pay three million in penalties. With that, when fight time comes, he will be at 160 lbs or more and will definitely have a huge advantage over Pacquiao, weight-wise.

Pacquiao's trainer, Freddie Roach said that if Little Floyd comes in even at an iota over 150 lbs, he will cancel the fight. That is well and good and I hope he will not be over ruled by the powers that be.

But Little Floyd is such a smart ass that he will never come in more than three pounds over the weight limit, allow the fight to be canceled and miss a huge payday.

At most, he will come in at exactly 150 lbs. or slightly under the limit. He then pays 3 million dollars in penalty, allow the fight to continue and still make the rest of the money. And, as I mentioned, will have the tremendous weight advantage as he did over Marquez.

In order to prevent Little Floyd from literally cheating the system, I suggest that the penalty for coming anything over the 147lbs. limit be set at 5 million dollars per pound or the fraction thereof.

Five big ones!

Do you hear me Schaefer?

Got it, Uncle Bob?

With that, Little Floyd who loves to call himself the "Money Man" will think really hard before messing up with the fight contract.

Five million dollars per pound is totally insane. It has never been done before, you may say.

I totally agree.

But this is the biggest fight of this generation and it must be fought on equal terms.

And, it is the best way to assure that Little Floyd will not pull "another Marquez" again.

As we all know, with the kind of mentality and the cunning he has shown before, there is no telling, much less an assurance that he will never do it again.

He has done it once and he is totally capable of doing it again. And, if there is no major impediment like a huge loss of cash, who knows what he will do?

There is no doubt Little Floyd would love to keep the "O" in his record. Thus, he will definitely leave no stones unturned to do so.

And if that takes coming in overweight, I have no doubt he will do it.

People will say that I am just "hating". That is so far from the truth.

It is not about hating. It's about telling it how it is, based on facts.

Little Floyd did it during the Marquez fight where the risks are lesser, what more now with Pacquiao who stands the greatest chance to knock him off his socks?

Will his love for his undefeated record and gigantic ego take over common sense? I hope not. But then again, who are we to say that it will not?

The 5 million per pound penalty is the best and might well be the only way to prevent Little Floyd from cheating at the scales.

The question is will all those concerned have the balls to include such an unusual penalty to keep the fight fair and square? Or will they just succumb to the dirty tricks of Little Floyd?

Let's just wait and see!