PACQUIAO HAD SOME INJURIES TOO By Ed de la Vega, DDS
Mon, 16 Nov 2009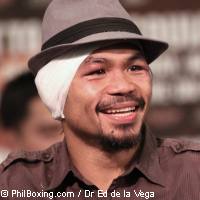 Las Vegas, NV: Manny Pacquiao won his 7th division world title fight with a magnificent TKO over a very strong and tough Miguel Cotto.

But he did not escape unscratched.

"Cotto's punches hurt but I just pretended they did not so as to discourage him" Pacquiao was quoted as saying.

After the 12-round fight, Cotto was taken to the hospital upon advice of the Nevada Athletic Commission as a pre-cautionary measure for routine full body scan. Thankfully, it was announced later that his is fine and will box again another day.

Pacquiao did not have to go but he stayed at the dressing room for several minutes to be attended by a plastic surgeon. Bob Arum indicated that they had to "drain some blood from his right ear to prevent the so called "cauliflower" effect that is prevalent on boxers and wrestlers.

At the post fight press conference the ever smiling world champion came in sporting a huge bandage on his right ear.

But he did not seem affected as he answered questions from the media.

He even sang a few bars of the same song he sung at the Jimmy Kimmel Show a week ago and invited everyone to witness his concert. "Of course you will have to pay $40.00", he said.