JAPANESE MANAGER WANTS HIS BOXERS TO SEEK TITLES OUTSIDE WBC AND WBA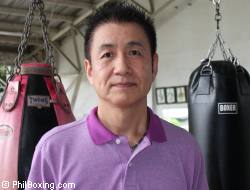 Former WBC minmumweight world champ Katsunari Takayama of Japan is aiming to become the first Japanese boxer to win titles in the four major sanctioning bodies: WBC, WBA, WBO and IBF. His manager, Koichi Matsumoto was at the ALA Gym Wednesday afternoon and was impressed with the facilities. Matsumoto said that he plans to bring his fighter here in Cebu so he can train and spar with the ALA Gym boxers.

The Japan Boxing Commission only recognizes the WBA and WBC. But Matsumoto want to break from what he calls the conservative Japanese tradition. This is something unprecedented in Japanese boxing. He also wants his boxer to accumulate fighting experience outside of Japan. Takayama ( 23W – 4 L, 9 KO's) has never fought outside of Japan.

The 26 year old Takayama won the WBC 105lbworld title 4 years ago with a 12 round unanimous decision win over Isaac Bustos of Mexico in Osaka, Japan. He lost in his first defense to Eagle (Kyowa) Den Junlaphan by 12 round UD. Takayama has tried for the WBA world crown twice and lost to countryman Yutaka Niida and Nicaraguan Roman Gonzales both by decision.

This is a rather intriguing prospect considering that the WBO minimumweight champion Donnie "Ahas" Nietes is training at the same gym.

Top photo: Japanense manager Koichi Matsumoto at the ALA Gym Wednesday afternoon.